Carson Palmer to Raiders, Ronnie Brown to Lions
Updated: October 18, 2011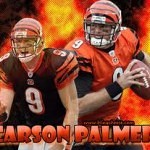 Two former superstars were traded today in the NFL. First up is Carson Palmer the "retired" Bengals Quarterback. He's going to the Raiders for not one but possibly two first round draft picks.
Depending on what you believe the Raiders are either trading for a guy with nothing left in the tank, or a former Pro Bowler who his previous team held back all these years. I tend to agree with the former. Carson may prove me wrong, but hey.. the Bengals probably just traded him for Malcolm Floyd so its a good deal.
Ronnie Brown was also traded today, to the Lions. Ever since he threw that fumbled lateral on the goal line you knew his time with the Eagles wasn't going to end well. Some one has to be the fall guy for the "Dream Team." At least they got Jereme Harrison back a guy that Andy Reid knows and trusts.