2012 NFL Mock Draft: Quarterbacks
Updated: October 19, 2011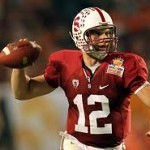 Where will all these quality QBs go? I have no idea honestly. After last year when we saw six passers get grabbed up in the first 45 picks, there is going to be a logjam many places for young quarterbacks. Fret not class of 2012, as almost every scout and pundit agrees that this class is far more talented than the class of 2011.
Not to take anything away from the class of 2011, but seriously a QB that ran the PISTOL OFFENSE went in the second round. Outside of Cam Newton and Ryan Mallet (who wasn't even drafted in the first 45 picks) I was extremely sketchy on the class of 2011.
The draftees in 2012 have a lot more to offer. You have Robert Griffin III the athletic, deadly accurate passer. You have Kellen Moore, one of the game's best winners. You have Case Keenum who's passed for more yards than EVERYBODY. And I haven't even mentioned the name Andrew Luck yet.
So where will they go in the 2012 NFL Draft? Member of the site Swagg (again, don't ask me he picked his own name haha) took his time to put together this mock for us. Let us know what you think!
Mock below:

1

Dolphins

QB from Stanford

Round 1 Pick 1

2

Redskins

QB from USC

Round 1 Pick 2

3

Seahawks

QB from Oklahoma

Round 1 Pick 5

4

49ers

QB from Arizona

Round 2 pick 35

5

Bills

QB from Michigan State

Round 2 Pick 40

6

Colts

QB from San Diego State

Round 3 Pick 87

7

Broncos

QB from Texas AM

Round 4 pick 104

8

Raiders

QB from Oklahoma State

Round 5 Pick 138

9

Texans

QB from Boise State

Round 6 Pick 175

10

Saints

QB from Houston

Round 6 Pick 190

11

Cowboys

QB from Baylor

Round 7 Pick 209

12

Falcons

QB from Illinois

Round 7 Pick 217

13

Lions

QB from Tulsa

Undrafted Free Agent

14

Bengals

QB from Florida Atlantic

Undrafted Free Agent

15

Ravens

QB from East Carolina

Undrafted Free Agent