2012 NFL Mock Draft: Carolina Panthers
Updated: October 20, 2011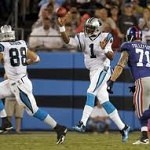 The Panthers are a team that is thrilled that rumors of Cam Newton's demise have been greatly exaggerated. Many draft pundits and scouts questioned if Cam Newton could play on the NFL level and all he did was break rookie passing records set by some guy named Peyton Manning. Cam's first win was a exciting come from behind win against the Jaguars in a monsoon where he went head to head with fellow rook Blaine Gabbert.
Almost all of the Panthers games have been extremely close. Just the presence of Newton has opened up the passing game, primarily for tight ends Greg Olsen and Jeremy Shockey across the middle. Teams have to account for the fact that the 6'5, 250 lb. QB could take off running at any moment.
This team is on the rise but still has a bunch of holes to fill. Primarily at WIDE RECEIVER. Legadew Nene, looking directly at you. On defense the Panthers would probably trade anyone not named Smith, Newton, or Beason for a decent defensive tackle.
So what will they do to correct this in the 2012 NFL Draft? Here are some suggestions by member panthersfan95, who took the time to put together a nice Panthers mock draft.
Check it out below:
1

Panthers

DT from Michigan State

Round 1: I think the panthers have a lot of young talent at WR with Brandon Lafell Amantie Edwards Ledgue Nanee and David Getts (out 4 season). So i dont think they have to get va 1st round WR but can get a sleeper in a late round, but they need some1 in the middle of the D-Line and Worthy is the best DT in the draft.

2

Panthers

CB from Washington

Round 2: They need to get a CB to replace Richard Marshell and go on the other side of Gamble. I know they have Captin but i dont think hes a number 1 or 2 WR hes more of a slot CB.

3

Panthers

WR from Alabama

Round 4 (They traded there 3rd round pick to the bears for TE Greg Olesn): Maze is just like steve smith hes got the speed and he can help out in the return game. If steve dosent retire after this year Maze will be able to learn form one of the best and maby be the next steve for Carolina.

4

Panthers

OT from USC

Round 5: They take Blake DeChristopher, OT, Virginia Tech admin plz add him thank you. Blake can come in and learn from one of the best OT in the league (Jordan Gross). He has the skill set to were he could be just as good or better than Gross.

5

Panthers

S from Kentucky

Round 6: I dont think the Panthers need to get a saftey cause they have good young talent there with Jordan Puge Sherrod Martin & Charles Godfrey. If Winston can get with the right defensevie cordnator he could be a solid starter in the NFL.

6

Panthers

OLB from North Carolina

Round 7: They take Demario Davis, OLB, Arkansas State admin plz add him thank you. He had a great sophmore season and if he has a good jounior season he will probaly be a 3rd round pick but he could come in and be a solid back up for T Davis and J Anderson. He could start one day for carolina if Anderson or Davis leaves.