2012 Heisman Watch: Robert Griffin III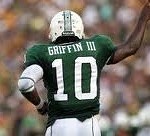 Robert Griffin III has always been a darkhorse to win this year's Heisman.  Though he had played admirably for the Baylor Bears, there were always those that questioned if he could secure that "Heisman Moment" to put a stamp on his ticket to the downtown athletic club this year.
This weekend Griffin had a chance to do just that and lead his Bears in a come from behind win against Kansas State.  Sadly Griffin came up a little short on the final drive.  If he would have found a way to get that W, I may be writing a completely different article right now.
Griffin currently has passed for 1308 yards, 18 touchdowns, and just 1 interception.  Those are the type of numbers you can expect on Xbox, not in real life.
With other QBs like Andrew Luck, Russell Wilson, and Kellen Moore playing so well it is going to be difficult for Griffin to bring home the little bronze statue.  The Bears Big XII schedule is loading up with Texas A&M and Oklahoma State on the menu so Griffin still has that chance to have his Heisman moment and move up on the list of Heisman candidates.