Seahawks LB Aaron Curry on 2nd Team, Is He a Bust?
Updated: September 22, 2011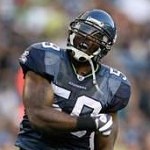 When the Seahawks drafted Aaron Curry it was a real feel good story. He was the type of guy that you just wouldn't be against. I really thought he was about to be the man for that Seahawks defense.
Well after just a couple years, KJ Wright is the man, and not Curry.
The Wake Forest product and the No. 4 overall pick in the draft three years ago confirmed that his role has changed, and he has been demoted to second team on the depth chart at outside linebacker, with rookie K.J. Wright working with the first unit during practice this week.

Read more: http://blog.thenewstribune.com/seahawks/2011/09/22/lb-aaron-curry-demoted-in-favor-of-k-j-wright/#ixzz1Yiaw9CRF