Pitt RB Ray Graham Bursts on the Draft Scene
Updated: September 30, 2011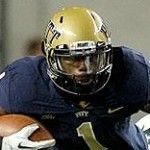 When you play on a Thursday night you can really help your draft buzz, especially if you play in a smaller conference.  Pitt RB Ray Graham has done just that.  He's the talk of the town after posterising #16 USF for over 200 yards with the whole sports world watching.
Graham went off for 226 rushing yards and not one but two touchdowns.  He showed nice ability catching out the backfield and getting yards after contact. 
His official stat line went 26 carries for 226 yards, and 4 receptions for 42 yards.
They have another good one up there at Pitt…
Video Below: