Mock Draft HQ now on Facebook!
Updated: September 23, 2011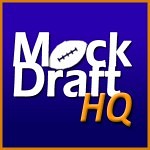 Don't be a stranger, get social with us! We now have a presence on Facebook, Youtube, and now… Facebook!
I know everyone is going crazy with the whole new Facebook ordeal and is logging in like crazy right now. So while you are pimping your new Facebook page and trying to get at those twodels on twitter take two seconds and throw us a like and a follow!
All the links are below: