Kellen Moore: Where Will He Go In The Draft?
Updated: September 19, 2011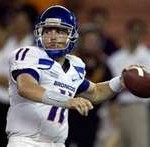 I've been following a few prospects really closely lately in preparing for my next mock draft coming up, and among the guys that I wanted to really get an idea of their game is Kellen Moore. He  is one of the more interesting prospects if you ask me.
Now on first look, a lot of people will dismiss him as a 190 lb 6'1 QB who simply won't make it.  But when you look at his yardage totals you have to respect the guy for what he's done at Boise State of all places. Kellen has thrown for over 3500 yards, 30 plus tds and less than 10 interceptions each of the past two seasons.
The problem with "scouting" him  (if that's what you want to call it, I don't do scouting reports on guys its kinda pointless) is Boise's system.  Its a spread offense.  And we all know spread offense produce the Timmy Chang's of the world.
Just because you can throw for a lot of yards in college means nothing to the NFL.  They look for accuracy, the complexity of the throws you're making, and the reads you have to make, among many other things.
To me, Moore definitely has talent there.  He has shown accuracy on short routes, and a nice touch on his longer passes.  If you've ever watched a Boise State game though, you'll realize that most of the throws Moore is asked to make are short throws.  If he has thrown a pass that's gone over 25 yards in the air I haven't seen it yet.
Due to that I have to say his NFL comparison is Chad Pennington, and that is not an insult at all. Chad is actually a very good quarterback when he is healthy, he just doesn't have the type of arm that makes a defense respect him.  I believe Kellen is quite comparable in that aspect.  However Chad has shown you can still be pretty successful without it.
I believe Moore will grade out as a 3rd or 4th round prospect.  The main thing that will hurt him is his size, and the fact that he's a spread system QB.  He would be a nice fit as a developmental QB for a team that already has a reliable starter.