John Elway Exposes 2012 Draft Strategy a Year Early
Updated: September 11, 2011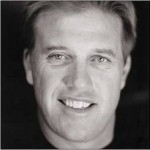 It is no secret that John Elway has never liked Tim Tebow. Last year he had "duh internet goin nutz" when Peter King leaked a private dinner conversation they had in which Elway said he didn't think Tim Tebow was a very good QB. Elway has always made the distinction of saying Tim is a good football player, but never Quarterback. John Fox has reinforced that by placing Tim on the proverbial third string.
In an interview with the Denver Post Elway was asked about what he wanted in a franchise quarterback and responded:
"You need the guy to win you a championship from the pocket, to be a leader, to make it go. And you're looking for the athlete at the position who can operate from the pocket and get out when he needs to."
The moves that Elway and Fox make say one thing very clear about Tebow. Neither is ready to pin their future to #15, and with good reason. He was "offensive genius" Josh McDaniels' pet project and with no more McDaniels it is only a matter of time before Tebow becomes the next out of McDaniels high profile draft picks to no longer be with the team. Knowshon Moreno, Demariyus Thomas, and Robert Ayers are the other survivors for those counting.
I have absolutely no problem with cutting ties with Tim Tebow and Tebow nation ASAP. There are many reasons to do so, and the main one being Tim is just not that consistent throwing the ball. You need pin point accuracy from a franchise QB and that is a trait many believe one has to be born with to a certain degree. Tebow is an Urban Meyer spread QB and it is what it is. Nothing personal against the guy, but when the G.O.A.T. of QBs doesn't believe in you I'm pretty much siding with him.
If the Broncos earn a top five draft pick they are leaving the 2012 draft with Andrew Luck. You can "Book it!"