Is It Time to Pay Ryan Fitzpatrick?
Updated: September 19, 2011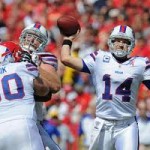 The longest joke running for the past couple of years has been that the Buffalo Bills are never going to draft a Quarterback in the first round of the draft, no matter what, because they are content with Ryan Fitzpatrick and being mediocre.  Well, the joke may be on us with the way the Bills have come out playing this year.
Harvard's finest quarterback already has thrown seven touchdowns to just one interception and one sack this year.  Insane numbers for any quarterback, even though he did only play the Raiders and Chiefs so far.  However the way Fitz brought the Bills down for the game winning drive was something of the OLD Buffalo magic from back in 92′. Jim Kelly would be proud.
There has been talks of Fitzpatrick getting an extension floating around. And from the looks of it the Bills want to make it happen too.  Chan Gailey has been quoted as saying he "cannot think of anyone else being his quarterback."  So definitely the Bills aren't drafting a QB in the 2012 NFL Draft and it is just a matter of coming to the numbers with Fitzpatrick and his agent.
Kevin Kolb got 21 mil guaranteed for 7 career starts… so you know Ryan stands to cash in at around the $30-35 million range.