Former Raven Chris McAlister Broke & Living With Parents
Updated: September 16, 2011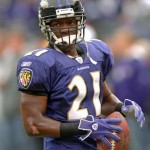 How does a guy that pocketed millions of dollars (around $55 mil to be exact) go broke just a couple years after his NFL career ends? Simple, like anything he makes bad mistakes.  Former Raven Chris McAlister claims he is already broke and has moved back home.  That's cool if you're a broke college grad, but a former NFL star and Superbowl Champ? No bueno.
Here is how it went down:
In the docs, Chris — a 1st round NFL draft pick in 1999 who played in the league for 10 years — states, "I have been unemployed since 2009. I have no income."

He adds, "I live in my parent's home. My parents provide me with my basic living expenses as I do not have the funds to do so."
Source: TMZ
Now rookies listen up!
Here is a checklist of how to make sure you aren't broke when you retire from the NFL.
Do not buy a big multi-million dollar mansion. After you retire you still have to pay the expenses and taxes on the house.  Stay in a nice higher income neighborhood with a good school system.  It will go further.
No bling, unless you have an agreement that allows you to sell it back. All bling should be rented or leased for the obvious reason.  When you are 38 the "#1 Playa" pendant is just going to sit in a box.
No exotic cars. No Lambos, Bugattis, Ferrari, etc.  The maintenance on these vehicles is more than most realize.  You can get a used Bentley, Escalade, etc. for 100k or under if you absolutely need a luxury car.
Leave the homies at home. Don't pay the living expenses for another grown man, unless that man is your blood brother or a CLOSE childhood friend.  No need to pay the whole block's bills.  If you want to do something for them you're better off putting some money down on their tuition than paying them to be a bum.
If you're going to club, get paid to be there. It makes far more sense to make it rain with the money the club is paying you to make an appearance than your hard earned money.  Ocho Cinco is the master of this.  He does a lot of fun things on the side and you better believe he gets a check for doing those things as well.
One baby Momma. Self explanatory…
…she should probably be your one and only wife as well. Getting divorced means you just lost HALF *Eddie Murphy Voice*
Invest in things that product income, and can be easily liquidated as well. Even if your investment doesn't bring in a lot of money things that make money are easier to sell than things that don't.  Think of owning a couple Subway franchises versus owning a couple classic cars.
Pay someone smarter than you to manage your money. a good accountant pays for his/herself.
and the final thing… Pay your taxes!
If you wish you can donate 10% of the money you save to ya boy!