Explosive Rumor: Peyton Manning May Miss Entire Season
Updated: September 5, 2011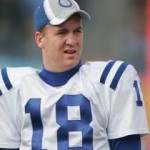 The story of the off-season has been Peyton Manning's neck. He had two surgeries in about a year and has missed the entire preseason and almost every practice due to the injury. The Colts have signed Kerry Collins as a stopgap for the time being, and there are mixed signals as to whether Peyton will play opening day, or even this season at all.
Dave Calabro a respected and veteran Indy reporter for NBC 3-13 posted the following on Facebook:
Lots of rumors that Peyton Manning may need another surgery
and could miss many games. Bill Polian told NBC Sports he knows
nothing about that.....stay tuned its going to be an interesting season.

John Michael Vincent, reporter for 1070 AM The Fan, ESPN in Indy has confirmed Calabro's story.
This.
Is.
HUGE.
The NFL's active leader in games played, the man who IS the Indianapolis Colts may not even play a down for this season. With Kerry Collins they may have enough to win 6-10 games and sneak in the playoffs but that is a big MAYBE. Collins only joined the team hours before the final preseason game and was previously enjoying retirement.
If Peyton misses the season the Colts are going to have to think closely at drafting a QB in the 2012 NFL Draft.