Darron Thomas and LaMichael James Struggle Vs LSU
Updated: September 5, 2011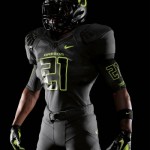 I love the Oregon Ducks' spread offense. I really do. I think that it is one of the more revolutionary things to happen in the game of football, period, in the last 10 years. There has been one problem through. If Oregon runs into a team that can run the ball, they can never comeback from behind.
That is exactly what happened Saturday night vs the LSU Tigers. Darron Thomas and his Duck squad were simply pushed around by the Tigers. Trying to play coming from behind, the Ducks seemed off of it on many offensive plays and Darron Thomas looked rattled. LaMichael James had a few nice runs on screen passes but other than that he was highly ineffective.
Thomas finished the conest 31-54 for 240 yards and one touchdown and one interception. Pedestrian numbers for him. James took 18 carries for 54 yards and a touchdown.
This isn't going to be a huge reflection on either man's draft stock as Oregon has the whole season to rebound, and their defense gave up 90 plus yards to TWO LSU Tigers. If you're Darron Thomas or LaMichael James you have to forget and forgive your defense and try to salvage this season the best you can.