Cam Newton Breaking NFL Rookie Passing Records
Updated: September 19, 2011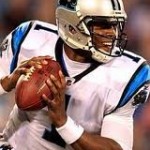 Another week, another NFL passing yard record for Panthers rookie Cam Newton. Sadly enough, another loss for the Panthers.
After passing for 422 yards last week, Newton now has 854 passing yards in his two-game NFL career, shattering the NFL record for the most passing yards in a player's first two games.

Source: ProFootballTalk
Though Cam looked really good in this game, especially against the Green Bay Packers, he did make a few mistakes forcing the ball to Steve Smith which resulted in a few turnovers.
Cam once again stood tall in the pocket, kept his eyes down-field and went through his progressions.  It was even weird to see Cam restrain himself from running when a lane opened.  Coach Rivera has to tell Cam to be himself when those huge lanes open up and just take them.  That is what makes Cam one of the most intriguing QBs in the league.