#1 Draft Pick Cam Newton Breaks Peyton Manning's Record in 1st Game
Updated: September 12, 2011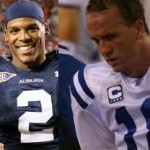 They said his game wouldn't translate.
They called him a liar.
They said he had a fake smile.
All Cam Newton did in his first game was answer his critics in a big way. 422 passing yards, 2 TD, and a rushing TD to boot in his first NFL game. Now he did lose the game, but he passed Peyton Manning's name in the rookie passing yard record book. Any time your name is above "Peyton Manning" on a record list you are doing something right.
Steve Smith finally came out of Jimmy Clausen's witness protection and was the recipient of both of Cam's touchdowns.
What was more important than the record was how Cam played. He stood tall in the pocket. He didn't run around like a chicken with his head cut off at the first sight of pressure. He kept his eyes down field and hit Greg Olsen and Jeremy Shockey when they uncovered. The balls were accurate, and thrown with a nice zip.
I'm not ready to say Cam is a franchise QB… yet. But he has legit NFL talent that every defensive coordinator is going to have to scheme for from now on.