Video: Ndamukong Suh Slams Andy Dalton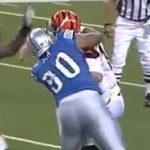 THIS is why I love Ndamukong Suh. He's probably my favorite player in the league. He is a throwback to real football. None of this spread offense pitch and catch game we have now. Ndamukong is a guy you could drop off right in the middle of the 70's and he'd fit right in. With his mentality he's one of only a handful of players today that I'd be confident saying would be Pro Bowlers back then. Suh believes in hitting the quarterback as much as possible. And as hard as possible. Shout out to Jay Cutler and Jake Delhomme.
Check out this video of Suh slamming Andy Dalton.
Yes, he shouldn't be using the head as the anchor of his attack, but Suh clearly doesn't care. If he gets a hand on you you're going down however he feels like taking you. I'm glad Andy Dalton wasn't hurt.
The legend of Ndamukong Suh continues to grow….