Tim Tebow Third String: Will the Broncos Release Him?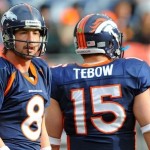 I don't need to retype anything you've already seen in the media. Tim Tebow as of yesterday, is with the third team while Brady Quinn has taken over the second team, and Kyle Orton is the starter. Tebownation is nervous, and the slander and lies are beginning to spread.
For what it is worth Coach John Fox has not declared any of the latest roster moves as final. And he likely won't until right before game one of the regular season, as he should. But with Tebow only getting two pass attempts… the question to me begins to linger. Is he done in Denver?
No the Broncos aren't "showing Brady Quinn off for a trade." Please let that fantasy die if that is what you are thinking. Fox is shuffling the deck and Brady Quinn with the second team is looking really nice right now if you are the Broncos coach.
Colin Cowherd (@ESPN_Colin) tweeted the following:
2 Dialogues w Tebow—one for dopey Tebow masses and one behind the scenes. John Fox behind the scenes–Im told–rolls eyes at Tebow hype
Hmmm.. not saying this is true or not but let's play advocate and say it is close to the truth. What is the future of Tebow with the Broncos if Fox isn't getting any production out of him? A wise man once told me "follow the money" if you ever wanted to learn the true story behind anything.
Tim Tebow is 8 million dollars guaranteed over the life of his rookie contact. That is entirely too much to pay a player who you have no intention of using. Do you think John Fox is going to create a "Tebow package?" Not likely. Fox is as stubborn as coaches get.
Don't be surprised if you start to hear rumors of the Broncos cutting Tebow outright as well as teams inquiring on the availability of Tebow. Tim is the kind of guy that can get a coach excited about working with him due to his personality and mobility. He went first round in the 2010 draft almost solely based off those two factors alone.
I would not be surprised if the St. Louis Rams or Miami Dolphins were involved in Tebow trade talk or claimed him off waivers if he were released. Josh McDaniels is calling the plays in St. Louis and is the coach that drafted Tebow. The Dolphins and Broncos have already dealt closely (Brandon Marshall, alleged Orton trade) and the Fins have been looking at QBs all off season.
Don't think that can happen?
Did you ever expect to see Jay Cutler in a Bears uniform?