Terrelle Pryor to the Raiders – My Thoughts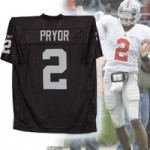 I had to head out to run some errands right before the supplemental draft, and I'm not the type to stand next to my TV/computer 24/7 to wait on a sports story so I decided to head out and wait to check later what ended up happening to former OSU QB Terrelle Pryor. Then I saw it…
Raiders select Terrelle Pryor in the third round of supplemental draft
At first I was worried, as I am a Broncos fan. Then I quickly realized this is Al Davis and the Raiders we are talking about. How long has the QB position been a mess in Oakland? Pretty much since 2006-07, whichever year was Rich Gannon's last year playing. Selecting Terrelle Pryor is just another hasty move in the same vein of Jamarcus Russell, Josh McCown, Jeff Garcia, Willy Wonka, Homer Simpson, and whoever else has suited up for the Raiders these past 6 years.
The thing is I like Pryor. I like him alot. Just not as a QB, and not on the Oakland Raiders. Even if he gets a chance to play at QB the Raiders are going to throw him into the fire too soon and too early and never give him the chance to sit and develop. I call that "Alex Smith'ing" a QB's career. It's a shame that Terrelle will be looked upon to work miracles in Oakland when he really should be looked upon to study film and train privately for at least two years.
Terrelle Pryor has the physical ability to be a great WR. It's just a shame we may never see that pan out. Going to the mess that is the Oakland Raiders' QB situation is not good for any football player. I hope Pryor cashes in on his potential eventually but I am not betting on it. Good luck, you'll be needing it.