Terrelle Pryor Scores an Alleged 7 on Wonderlic
I actually like Terrelle Pryor, contrary to popular belief. I just want to see him play WR for my own selfish reasons. I think he can be a very good receiver with his skill set, and having him play QB could be wasting valuable time that could be spent developing into a true terror at WR. Like Jon Gruden told him "that guy Hines Ward, do you know what he played in college? Thats right- Quarterback. And he's going into the Hall of Fame."
Not saying that Pryor has HOF WR talent.. but we don't know, he just might be the next Brandon Marshall or Mike Williams waiting to happen. The kid is 6'5 and runs a 4.3. You're not finding athletes like that just anywhere.
Anyways off the rant and on to the news. Pryor allegedly scored a 7 on his Wonderlic test. Here is what PFT had on it:
According to Bob McGinn of the Milwaukee Journal Sentinel, Raiders quarterback Terrelle Pryor also received a seven.

McGinn suggests that the low score explains Pryor's bad on-field and off-field decisions at Ohio State. We're not prepared to make that leap, even though McGinn may be right on the money.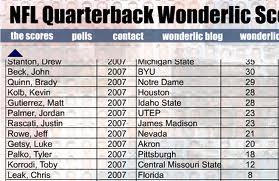 Most QB's score in the mid to high 20's. Donovan McNabb and Vince Young both scored in the teens, so it isn't an indication of a QB's value at all. Matt Leinart and Alex Smith have the highest scores recorded on the test if that is any indication we should take this with a grain of salt.
More commentary on Pryor in Oakland if you need it.