Terrelle Pryor Eligible for Supplemental Draft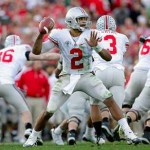 The NFL delayed it's supplemental draft to reconsider the status of former Ohio State QB Terrelle Pryor. Pryor decided to leave Ohio State after the school revealed he would be suspended for the first five games next year.
I checked out ESPN's "Mike and Mike" and Mike Golic is losing a lot of respect in my eyes. He was ranting about how Pryor was be given rewarded for "breaking the rules" and that it was horrible. HORRIBLE!
First of all, this isn't a reward. This is a opportunity to TRY OUT. There is no guarantee Pryor will be drafted, and even once he is drafted there is no guarantee that he will make the team he goes to. He will have to actually EARN his way. Unlike what Golic thinks, there is actually a LOT of work ahead of Pryor for him to secure a pro career. Secondly, again with the "breaking the rules!" It has been reported by ESPN themselves that Ohio State made $2 million dollars last year selling the "Terrelle Pryor" #2 jersey. And guess how much Terrelle got? If you guess not a damn dime, you are correct! So Golic really needs to stop airing his fake elitism and look at this from the kid's point of view.
I hope Pryor does well and EARNS his spot on a team. He will likely be a wildcat QB/WR. I do not see him as a QB in the league, and his potential at WR is far higher than any other position.