Steelers Release Draft Bust Limas Sweed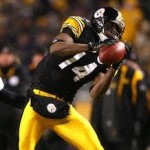 Just this week I did a series of posts on Aaron Maybin, which has inspired me to bring back Spectacular Bust Week. And boy, have the busts piled up. Limas Sweed is another name on the list.
Sweed was once an awesome receiver down at the University of Texas. Many felt he was even better than Roy Williams (overpaid, but not a bust IMO.) In 2008 the Steelers took Sweed in the second round with the 53rd overall pick.
Know what kind of production the Steelers got for that pick?
7 catches.
That's it. 7 catches. Achilles injuries have been the reason behind Sweed's lack of time on the field.
To put things in perspective, Ray Rice and Jamaal Charles we BOTH selected after Sweed. That hurts me to type, and I'm not even a Steelers fan. Here's hoping Sweed catches on somewhere. We may possibly see him in the UFL or CFL or in the Arena League if he cannot convince another NFL team to give him a shot.