Rex Grossman Says Redskins Will Win NFC East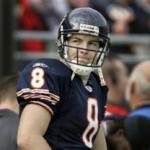 I've always liked Rex Grossman. There I said it. I'm not one of the guys that rag on the guy 24/7. From his time at the University of Florida I felt he was a great college player, but would struggle in the NFL mainly because of his height and stature. To a certain degree that has been true but Rex DID start a Super Bowl, which many QB's cannot say. Shout out Thomas Jones for dragging him, Cedric Benson, and the rest of that Chicago offense there.
Anyways, Rexy has won the Redskins QB battle and must be feeling pretty confident.
"We're fine being the sleepers right now. We're just waiting in the wings, ready to take over the NFC East," Grossman told CSNWashington.com.
Does he know that the NFL is still going to be drug testing for marijuana this season? He must have been hanging out with Wale and Maybach Music out there in DC.
As usual I would finish this with a slick rap line, but I don't really listen to Wale. *shrug* Good Luck DC….