Prince Amukamara Breaks Foot, Done for the Season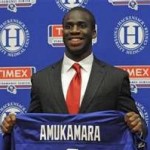 According to the Giants official twitter page, rookie CB Prince Amukamara of the Giants broke his foot and it is likely he will not play in 2011.
#Giants CB Amukamara has a fracture of the 5th metatarsal bone in his left foot. surgery needed, sidelined for an undetermined period. #nyg
The Giants drafted Prince after he fell a few spots in the draft beyond where most thought he would go, and the Giants snatched him up like the last Xbox on Black Friday.