Plaxico Burress Signs With NY Jets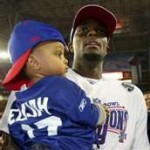 Finally the Plax has come back to New York!
Plaxico Burress was looking to continue his career after a 2 year prison stint and he will do it right in the same stadium he last called home. Going to the NY Jets, Plaxico will play his home games in the same city he did as a member of the NY Giants. It is a one year deal for $3 million guaranteed.
If Plax can get his legs under him he gives Mark Sanchez a big play WR to replace Braylon Edwards. If not then he is a redzone target at best and the Jets can grab a replacement in the 2012 NFL Draft. It will be one of the stories of the year either way.
The Jets also resigned Antonio Cromartie to a 4 year deal.