Daunte Culpepper Back: Works Out, Expected to Sign with 49ers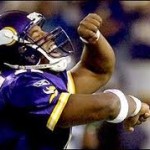 Daunte Culpepper and Randy Moss used to have me getting my roll on as a kid every time they scored a TD. Culpepper even was in the MVP race at that time. Every kid in the backyard wanted to be Randy or Daunte.
All was fun and games until… Daunte blew his knee out, went to Miami, went to Oakland, went to Detroit, then went to the UFL to never be seen again. But don't be sad, it's time to break out that Cash Money Records bandana and that Big Tymers CD.  Mr. Get Your Roll On is back!
Since Colin Kaepernick looked unready in his first action and Alex Smith looked like Alex Smith the 49ers are looking for a vet to hold the fort right now. Daunte Culpepper might be that guy. He worked out for the team and is expected to sign any minute now.
Veteran Daunte Culpepper worked out for the 49ers early Monday morning a source close to Culpepper told CSNBayArea.com. All indications are the 49ers expect to sign Culpepper to a one-year contract, the source said. If the deal is completed, Culpepper could be on the practice field at 2:30 p.m. for the team's scheduled three-hour workout.
EVERYBODY GET YOUR ROLL ON, EVERYBODY GET YOUR ROLL ON, WHAT?!