Chiefs Rookie Jonathan Baldwin Injured in Fight With Thomas Jones?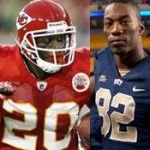 What in the name of Marcus Allen is going on in KC? Their rookie receiver Jonathan Baldwin out of Pittsburgh has apparently injured himself or was injured (the details are murky) in some sort of locker room Smackdown! during the week. For those that remember, during the draft there was a little speculation as to whether Baldwin's attitude, or should I say ego, would keep him out of the first round.
Ultimately it did not as the Chiefs are looking for a young star WR to put next to Dwayne Bowe. But if things keep going this way Baldwin could find himself in the Commissioner's office. Here are the some what confusing details:

If Nick Wright of 610 Radio in Kansas City is right, the story is a doozy.

Wright reports that Baldwin will likely miss the rest of the preseason after injuring his wrist during a locker room scuffle with teammate Thomas Jones. Baldwin's work ethic has reportedly been an issue.

"He's as advertised," a source tells Wright. "Diva, spoiled, doesn't wanna listen. Can run a Go and a Slant, and doesn't wanna work."
Really?! You pick a fight with Mr. Extra Reps himself? Good luck. If anything pick a fight with the Punter or the 7th string cornerback. Not the running back with biceps the same size as most people's head.
Baldwin is out for at least 6 weeks if not more, according to Adam Schefter.