Cardinals Rookie Ryan Williams Out for the Season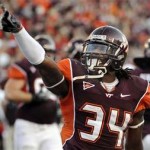 First Mikel Leshoure, now Ryan Williams will miss his rookie season. Williams tore his patella tendon during a preseason game Friday night and will not be suiting up in 2011. Here are the details from PFT:
Coach Ken Whisenhunt said Williams likely has a ruptured patellar tendon, according to multiple reporters on the scene. Coaches are always hesitant to say anything immediately after a game unless the injury is clear; Whisenhunt sounded pretty sure his versatile second round pick was done.
A lot of people were looking for Williams to make a huge impact for the Cardinals and their new ground heavy offense. Maybe they shouldnt have traded Tim Hightower so soon? Hmm….
Beanie Wells can breathe a breath of fresh air… for now.