Buffalo Bills Release Draft Bust Aaron Maybin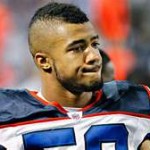 A few years ago I did a series of articles called spectacular draft bust week, in which I profiled several players who I thought were underachieving in their careers at the time. Several of the players turned their careers around (Eli Manning, Roddy White) while others proved me exactly right (shouts out Troy Williamson). If I ever do another draft bust week I know the first name on the list… Aaron Maybin!
Aaron Maybin was a player coming out of Penn State who many overrated because of his physique and not because of his actual football abilities. Kinda sounds like Vernon Gholston who oddly enough plays the same position!
When Maybin was drafted I wrote:
He has noticeably gained some weight. You got to take a pass rusher or a OT if you're Buffalo. Oher waits until later, Maybin is going to help out Leodis and crew a lot. I like this pick… for Denver.

O'SCAKPO IS NEXT.
Yes, Aaron Maybin was drafted before Brian Orakpo and yes, Josh McFailure drafted Knowshon Moreno instead. Let me take a moment to pick myself up from this facepalm…
And now, the Bills have had enough and cut the "all ski mask" (guys who steal their game checks) team leader. Maybin collected $15 million dollars while accounting for 15 career tackles. We aint talkin' bout sacks, we talkin' bout tackles!
Aaron is probably best noted for the rap song he created "MaYHEM" instead of his actual playing career. Maybe Delonte West or Chris Johnson will sign him to a record deal?