Broncos WR Matt Willis Says Orton Should Start Over Tebow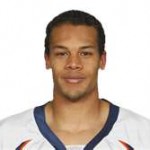 ESPN did a phone interview with Broncos wide receiver Matt Willis on the Tebow-Orton Quarterback battle. When asked what he thought should happen between Tim Tebow and Kyle Orton, Willis said frankly that the team should "Stick with Orton." This is in line with what Brandon Lloyd said just a few days ago about Tim Tebow.
The vets want Orton, plain and simple. Doesn't matter how you cut it, remix it, read into it, the men in that locker room, who practice and play with both players every single day think that Orton is the better player.
Willis gave Tim his credit and said "Tebow played great last few games" but that "Orton started majority of the season" and that he preferred to stay the course with Kyle. When asked straight up "Who do you want?" Willis replied "the best guy." Matt added "Between the two "Orton definitely separated himself."
He went on to pay homage to Tim Tebow and say "Tebow is a great guy" but at the end of the day you can read between the lines. The Broncos vets overwhelmingly want Kyle Orton to play.