Bears Release Jets Draft Bust Vernon Gholston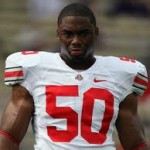 If there is something we are going to remember about the career of Vernon Gholston it is "don't judge a book by a cover."  In describing Gholston's career, I think a sports writer once said "he looks like Tarzan but plays like Jane." And now he's being released according to Adam Schefter.  Schefter tweeted the news ever so simply:
Bears released former Jets LB Vernon Gholston.
Basically Gholston was over drafted for a guy that played the disappearing acts he played in the Big Ten.  Why did the Jets think they were going to draft him and suddenly he was going to turn into a different guy?  I don't know.  Even if a guy looks like he can play his butt off, if you haven't seen it on tape there is no reason to lie to yourself or the player in question.  So far in his career Gholston is tied with the great sack artist, me, for career sacks (zero). Kudos to Lovie Smith for taking a look at Gholston and giving him a chance to compete.  That's all you can ask for if you're Vernon right now. A chance to compete somewhere.