Terrelle Pryor Passes Gruden's QB Camp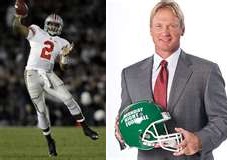 Today, the ESPN special episode of Jon Gruden's QB Camp aired with none other than the one, the only, Terrelle Pryor of Ohio State. Of course ESPN had to once again reiterate the fact that they asked Pryor to do a interview about the NCAA scandal, of which he smartly declined.
The show was great and I am sure it was one of the highest rated ESPN shows of the quarter. Pryor took Gruden's questions head on, with no nonsense answers. When asked if he would play another position Pryor did not smack the table and declare "I'M A QUARTERBACK!" as most athletic passers do. He calmly said he'd like to try out for Quarterback as he learns his new position.
Pryor also admitted his mechanics needed to be sped up, and he needed to stop throwing bad passes into heavy coverage. But listening to Pryor answer the questions shows you that he is mature and ready for the NFL spotlight.
Gruden ended the segment with a tongue-in-cheek comment in which he claimed Pryor could be a "good football player", making the clear distinction from saying Quarterback.