Terrelle Pryor Completely Banned From Ohio State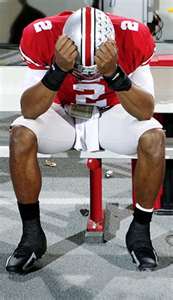 The uncertain status of the NFL Supplemental draft has been a topic kicked around in the media as of late in regards to Terrelle Pryor.  Basically, if there are no players with "unforseen circumstances" that result in losing their collegiate eligibility after the NFL Draft then there will be no supplemental draft.  Choosing to leave school on your own accord (what Pryor did) does not fit the bill to enter the draft.
So Pryor has to lobby the NFL or sit at home for a year right? Problem solved?
*Puts on stupid mascot head*
NOT SO FAST MY FRIEND!
According to Yahoo!, Pryor has been permanently banned from contact with the University for the next five years and would have been declared ineligible by Ohio State had he stayed in school.
Ohio Statesaid in a letter to Pryor's attorney Larry James today that the former quarterback has been "completely disassociated" with the program and would not have been reinstated to the team after his five-game suspension.

Source: Yahoo
This actually helps Pryors case.  The fact that his school was planning to ban him behind the scenes is an unforeseen circumstance if I have ever heard of one.
I know it hurts to be the "fall guy", but it's time for Terrelle to focus on the next phase of his career.  Maybe five years of not talking or thinking about Ohio State won't be so bad.