Tavaris Jackson to the Seattle Seahawks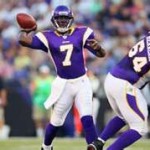 ESPN did an interview with NFL insider John Clayton about the status of the free agent quarterbacks.  He stated that chatter around the league was that Kevin Kolb will be traded to Arizona, Matt Hasselbeck will join the Titans, Alex Smith will stay in San Francisco and… Tavaris Jackson will sign with the Seattle Seahawks?!
Tavaris is a QB I have always liked.  I think he has a lot of ability.  People forget that he led the vikings to a 11-5 playoff record as a starter once.  But going to the Seahawks? I don't see it.  The Seahawks are going to run an offense close to what's in Minnesota which will be a run first offense but what is lacking is an Adrian Peterson.
I'm not sure how Tavaris would do with that roster up there.  Maybe Mike Williams continues his comeback and Golden Tate breaks out.  Maybe Marshawn Lynch builds off his dominant playoff game versus the Saints.  But those are too many maybes!