Stop Lying: Pacman Jones Arrested Again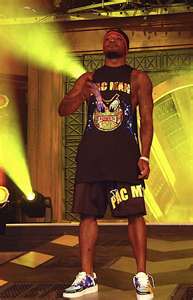 I feel like you can write one "Adam Pacman Jones arrested again" story and have it on deck to copy and paste for every time he comes across the wire.  You remember he was a first round draft pick by the Titans, got in trouble cause of something to do with strippers money and guns, then ended up on the Cowboys and then finally the CFL and Cincinnati Bengals.  He even did a stint as a tag team wrestler in TNA Wrestling.
Here is the story from PFT:
The folks at WLWT report that Jones, who now plays for the Bengals, was arrested early Sunday at a Cincinnati bar.

He reportedly was intoxicated and disruptive.  He allegedly got into an argument, and he allegedly was uncooperative when asked to leave.

As Jones was being arrested, he reportedly struggled to get out of the handcuffs.  Ultimately, two officers were required to restrain him.
Even Michael Beasley has to read this like "come on man."  I guess leopards don't change their spots.  You can take the man out the hood but… can you ever really take the hood out the man?