Sidney Rice Signs With Seattle Seahawks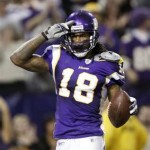 That sound you heard was the collective sound of 1,000 Vikings fans hearts breaking.  Just a few hours after grabbing Donovan McNabb at Goodwill prices, things were looking up for the Vikes.  Now it is reported that star WR Sidney Rice will be
*wait for it*
TAKING HIS TALENTS TO SEATTLE.
Adam Schefter tweeted:
Here are WR Sidney Rice's numbers with Seattle: fivr years up to $44 million including $18.5 million guaranteed.
Crazy.  $20 mil guaranteed and 5 years $40-$50 million is what you pay for a "very good" receiver these days.  The new salary floor seems to have spurred the Seahawks into making it rain; Robert Gallery, Sidney Rice, and Tavaris Jackson all signed within a few hours of each other.
For those counting, once again Donovan McNabb will be playing on a team with no elite receivers.  One day he's going to write a book and it is going to be a best seller.  He has to be the most disrespected, bad-luck having, unfortunate elite football player of this era.  Another post for another day…