Patriots Trade for Ochochino and Haynesworth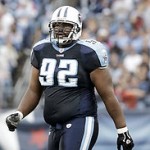 Bill Belichick is on a tear right now after just picking up two former Pro Bowlers for no more than a fifth round selection.  Albert Haynesworth was a former two time All-Pro who fell from grace in Washington, and Chad Ochocino has become more of a celebrity than a football player but both players have something left in the tank and you know Bill Belichick is going to get it out of them.
A lot of people think the Patriots are the best run organization in football.  It is hard to argue with that opinion, especially when they complete deals like this.
Where else can you get an All-Pro for a fifth?  A starting WR for a fiftth and a six?!
Bill is playing chess, not checkers right now.