Nnamdi Signs With the Eagles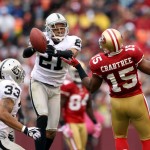 Nnamdi Asomugha will be wearing that Philly green for the next few years.  Eagles fans were stunned and delighted all the same to hear that the Eagles completed a deal to sign the top free agent of this year's class.  This just comes a few hours after trading Kevin Kolb for fellow starting cornerback Dominique Rodgers-Cromartie.
Michael Vick said before the draft on ESPN's Sportsnation that he would like to see the Eagles draft a CB.  The Eagles didn't, instead drafting offensive guard Danny Watkins of Baylor.  I guess if Vick was any bit disappointed that feeling quickly dissipated when he learned Nnamdi was coming to town.