NFL Network's Top 100 Players List Revealed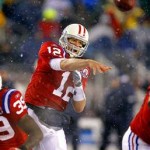 NFL Network unveiled it's highly controversial Top 100 players list this week and the names at the top weren't surprising.  Tom Brady came in at #1 with Peyton Manning and his one ring at #2.  Not surprising at all right?  Well, that is until you get to the rest of the list.  Check this list out for starters:

1) Tom Brady
2) Peyton Manning
3) Adrian Peterson
4) Ray Lewis
5) Ed Reed
6) Troy Polamalu
7) Andre Johnson
8) Darrelle Revis
9) Drew Brees
10) Julius Peppers
Now, don't get me wrong there are some good selections in the top ten, but there are some notable omissions.  First and foremost I hate to say it but why is Ray Lewis ranked fourth?  I love what Ray has done in his career on the field, but his best days are behind him.  Patrick Willis should hold that fourth position if you are going to include a linebacker there.
At number seven is Andre Johnson, who Skip Bayless stupidly said on National TV is better than Jerry Rice. Really?  Is Andre Johnson even better than Calvin Johnson and Larry Fitzgerald? There are strong arguments that could be made for either of those three receivers at that spot.  If you are talking pure football ability, and career accomplishments I have to give the nod to Fitzgerald because he's actually appeared in a Superbowl.  Andre can't even get his team into the playoffs.
I have a problem with Drew Brees only being #9.  He should be higher as well.  He has a ring, and I'd rather have him on my team than either of the safeties on this list if I had to choose between one or the other.
Finally is Julius Peppers.  I actually don't have a problem with him being ten on this list.  The man is unstoppable and plays like a top 3 NFL player in contract years.