Mike Vrabel Retires From NFL, Possible Return to Ohio State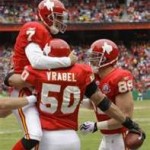 Normally, this would not be a huge story.  Mike Vrabel is a pretty good linebacker who had a terrific career, but he probably isn't going to Canton as a Hall of Famer.  He is most known for his three Superbowl rings with the New England Patriots, which included a few touchdown catches as a part-time tight end.  Now he will be taking his talents (that phrase never gets old) to Columbus, Ohio.
According to Yahoo,
Citing "sources close to the program," the Columbus Dispatch has confirmed rumors that ex-Buckeye All-American and 14-year NFL vet Mike Vrabel is returning to OSU as linebackers coach. The official announcement is expected on Monday.
This is huge considering Ohio State's program almost fell apart thanks to Terrell Pryor and Jim Tressell. The return of key alums will go a long way in restoring the faith of the program's backers.
We will see Monday if this pans out.