Mike Vick Back: Signs With Fuse Science, MusclePharm, and Nike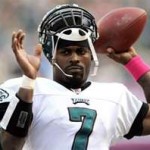 If you were looking for a story of redemption, look no further than Michael Vick.  After almost losing his career after a two year prison bid for fighting dogs, Vick has regained his status as an elite quarterback and he's even regained major sponsor deals.
Many people like to dehumanize Mike.  And that is your decision, but you shouldn't throw stones in a glass house. 
It's easy to type "QB dog killer" and whatever other funny little monikers you have from behind a nameless, faceless, computer screen but before you do that let's see who you are and look in your past.  No one is perfect and Vick has accepted his punishment from society, done his time, and in my opinion is better off for doing so.  Many people want to vilify this man, but in our system criminals have the right to be rehabilitated in our society so quit trying to rob Michael Vick of that chance.
Vick's comeback off the field started when he signed a new deal with Nike, and now he's signed new deals with Fuse Science and MusclePharm.  The Fuse Science is a five year deal, and the Muscle Pharm is a $1.5 million dollar three year deal.
#winning….