Kris Jenkins Retires Via Facebook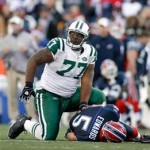 First it was the Big Shaq Diesel retiring via Tout, now more athletes are breaking their own stories via new age media.  I wonder what TO and Chad will do? Probably a Livestream, but they aren't retiring this year.  Kris Jenkins, is.
He announced via Facebook:
"It is time for the torch to be passed to the younger players. I am going to hang up the cleats! The mind is always willing to play but my body deserves the rest. Thank you for the opportunites to play Carolina and New York,"
Jenkins was always one of the NFL's most intense and most dominant interior lineman, but once he started having ACL problems he was on the sideline more than the field.  You have to wonder what kind of push he could have gave the Jets last year if he would have made it all the way.
Jenkins retires a four time Pro Bowler.