Kevin Kolb Traded to the Cardinals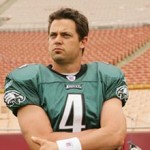 Kevin Kolb will be headed to Phoenix this year.  The Cardinals finally completed a trade with the Eagles, swapping QB Kevin Kolb for CB Dominique Rodgers-Cromartie.
Kolb becomes the team's unquestioned starter behind center.  Now it is up to him to prove that he is worth the hype and hoopla that has surrounded his name his year.  The Eagles did a good job on this trade.  They got a starting corner, and a second round pick in the deal.  So essentially, their backup QB yielded two players that will be starters.
Kolb is 3-4 in seven career starts.  His new contract is $64 million dollars, with $21 million guaranteed.  That is a lot to pay for seven games worth of potential but when you don't have a QB you have to make that move.