Kevin Kolb for Dominique Rodgers-Cromartie Trade Discussed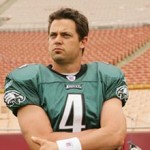 All of the talk during the lockout is that we will see a furious four day free agent frenzy soon as operations are resumed in NFL front offices.  The major domino that several teams are waiting to see drop is what happens to Kevin Kolb in regards to a trade.
The Minnesota Vikings, Tennessee Titans, Arizona Cardinals, Miami Dolphins, Seattle Seahawks and Washington Redskins could all be in the market for a veteran passer and Kolb fits the bill.  He is widely regarded as the #1 veteran passer available over Kyle Orton, Donovan McNabb, Vince Young, and Matt Hasselbeck.
It is looking more and more that Kolb will end up in Arizona, and possibly in exchange for CB Dominique Rodgers-Cromartie.
But a small detail may be holding up the deal.
Jeff McLane of Philly.com writes that "The Eagles want a starter in return – which Rodgers-Cromartie is – and more, possibly a 2012 second- or third-round draft pick."
Considering that the Cardinals just drafted Patrick Peterson in the NFL Draft, it is likely they are prepared to lose a starter there.  It is a matter of time before we see if Arizona is prepared to give not only their starting CB, but a draft pick as well.