Hasselbeck to Titans, McNabb to Minnesota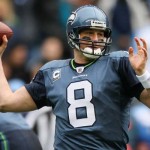 The QB carousel is on in the NFL!  With many free agent QBs on the market and more teams wanting passers, we've seen trade rumors for Kevin Kolb, a possible unretirement for Brett Favre, and many other rumors to rest.
Two QBs that we know where they are going to play next year? Matt Hasselbeck and Donovan McNabb! Hasselbeck came to an agreement with the Titans in a multiyear deal.  Donovan McNabb agreed to restructure his salary to a smaller number and be traded to the Minnesota Vikings.
Both QBs will be stop gaps until NFL Draft rookies Jake Locker and Christian Ponder are ready to start.