Buffalo Bills Unveil New Uniforms for 2011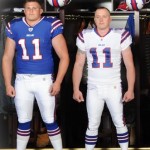 A while back, we covered the story on the Bills new uniforms being leaked out in some game footage of Madden NFL 2012.  Well, finally the Bills decided to showcase their new look to the public.
As you can see, these uniforms are almost exactly like their throwbacks with a few tweaks here and there.  Pretty nice uniforms though.  I just hope that we don't end up with half the teams in the AFC sporting white helmets again.  That's the reason so many teams came up with their radical new color schemes in the modern era.