Brett Favre's 2011 Comeback May Be With The Eagles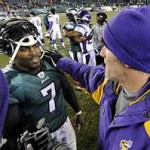 A few days ago, we published an article titled "Brett Favre Coming Back in 2011?" In which I reported on a story that broke from NFL.com's Gil Brandt.  Brandt threw out the possibility of Favre's comeback and literally my twitter exploded the minute he posted it.
We now, twitter has exploded again because Favre may have a suitor in the Philadelphia Eagles.  This makes sense because the Eagles are looking at trading backup Kevin Kolb reported for Dominique Rodgers-Cromartie and their only other QB is Kafka who doesn't have much experience.  When I say much I mean any experience.  No one has as much experience as Favre, it would be his 21st NFL season.
Michael Vick has a lot of respect for Favre so it makes sense there.  Not only is Favre a legend at the position, but he is also one of the few athletes who almost lost his career to go on to become a fan favorite and a legend.  Vick could learn a lot from him off the field.
Vick tweeted this: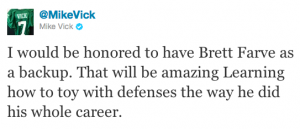 And then there is the money.  Favre is going to get paid handsomely to hold a clipboard and drink gatorade for a few hours every Sunday. As I said in my previous article:
Don't think for a second that Favre isn't aware he can hold a clipboard and get around $2.5 million for it.Will he be back? Probably not. But if #4 suits up one more time don't be surprised.