Albert Haynesworth to Get Cut?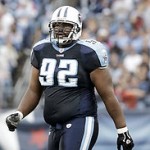 PFT recently published an article titled 16 defenders who could be cut before the season, in which they outlined a few players who might not be back with their squads in 2011.  The biggest name on the list, literally, was Albert Haynesworth.
We have our doubts that anyone will give up a quality draft pick for Haynesworth.  If Mike Shanahan continues to hold on out of stubbornness, the Redskins deserve what they get. Just like last year.
So apparently the Redskins are ready to call it a done deal.  Albert Haynesworth is a former All-Pro defensive tackle and those do not come easily.  Unless you're drafting #3 in the NFL draft and a team with no DT's drafts a 240 lb. linebacker instead. Thanks, Elway!
As you can tell, I think the Broncos should free up some cap space and make a run at Haynesworth if he is released.  He is still young, and would be motivated to play in a 4-3 again.  The Broncos currently have nothing at the tackle position, it would be the perfect fit!