Terrelle Pryor Will NOT Return to Ohio State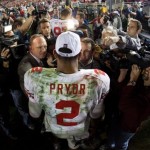 In off the heels of Jim Tressel stepping down, Ohio State's incumbent quarterback Terrelle Pryor will not be returning to school this fall.  There are many reasons why but dare I say…. ESPN may be the biggest reason why.  Every single day since Tressel stepped down the witch hunt was on for any violations that Terrelle Pryor may have been apart of while at Ohio State.
What we are forgetting is that five other players were named with Pryor in the tattoo scandal.  And on top of everything, the BCS named those five players ineligible but allowed them to play in a bowl game in order to save television ratings.  But no, no up-to-the-minute coverage of what those five players are doing.  No shots of them driving their cars around.  Nope!
I hope that everyone attacking this young man is happy.  Pryor's career is now in uncertainly with no NFL.  I just hope that the cameras and the spotlights can move off of Pryor now that he is a FORMER student athlete now. What's done is done, and the University clearly was not as ignorant to the NCAA violations as they are pretending to be.  The NCAA will ultimately drop the last boot in the Ohio State saga in due time.