Should Terrelle Pryor go to the NFL, UFL, or CFL?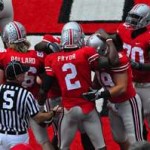 If you have not heard by now, Terrelle Pryor will be taking his talents somewhere other than The Ohio State University this fall.  While Coach Tressell should get the bulk of the blame for protecting a handful of players over the entire program, Pryor still broke the rules and he is accepting his punishment for the results of his actions.  While mainstream media is making him out to be a criminal, he is simply a kid that is getting gifts because others admire his talents.  He is not a rapist, criminal, or murderer and should not be vilified as such.
Anyways, you can read some of my past rants on the NCAA's unfair system for more on that.  I'm tired of repeating myself by now.
But Mr. Pryor has a few options to consider that will shape the immediate future of his playing career:
1. Transfer to a Bowl Championship Subdivison (formerly Division II) team and wait for the 2012 draft.
If Pryor does this then he is immediately eligible to play where ever he decides to enroll.  Doing this gives him another season to work on his skills, and possibly even win a National Title.  Remember the Bowl Championship Subdivision playoffs are televised on ESPN.  If he can get back on the right side of the mainstream media through his play, the sky is the limit for where he could ultimately go in the 2012 NFL Draft.
2. Enter the 2011 NFL Supplemental Draft
This is an option as well.  The Ohio State University has released a statement saying that Pryor will be fully eligible to be drafted in this draft, so that is an immediate option for him.  The only problem being in that is that the NFL is currently locked out so whatever team that drafts him won't be able to communicate with him until the CBA is done (I'm predicting first week September).  A young QB needs all the time he can get with his coaches.  For the immediate future this isn't a really good option.
3. Sign with the UFL or CFL as a College Free Agent
This is another option, play professional football in one of the "minor" leagues until the NFL gets it's act together.  This ultimately would put Pryor in full control of his NFL future on and off the field.  Play well, and you will have multiple NFL teams offering you contracts of which you get to pick the best system and fit for your skill set.  It all comes down to how confident Pryor is that he can do enough in those leagues to demand a high signing bonus.
What do I think he should do?  I'd say go to a NCAA Championship Subdivision team.  Don't take any gifts, just be a kid for a year.  Enjoy college, play ball, try to win a title and worry about the NFL Draft next year.
However, I believe Pryor just may be too "Hollywood as Hell" (shout out Joakim Noah) to stay in school and work on himself, and will opt to go into the supplemental draft ASAP.