Terrelle Pryor on Jon Gruden's QB Camp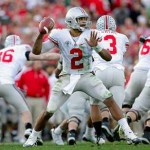 Terrelle Pryor took a minute to speak with Jon Gruden in the infamous QB camp.  Here is a quick review of the QB camp.
First of all, before they even air the footage Trey Wingo explains that ESPN attempted to trade the time with Gruden for an interview with Terrelle about the scandal.  Seriously?  They are still trying to exploit this guy? Disgusting.  But I'll digress…
When asked about Randy Moss, Pryor explains that if Randy Moss was on his team he wouldn't chuck it deep for the sake of making Randy happy.  I believe him.  Gruden didn't.
When asked about Peyton Manning Pryor simply said "he's trying to be the best."  He seemed really laid back in the session with Gruden.  The full segment will air next week.
Check back for a review on that as well.